Dismounted Soldier Systems
Sensor Technology (R&D) Systems:
Augmented Reality (AR) – Soldier Visual Interface Technology (SVIT):
BANC3 is designing and developing a next-generation Augmented Reality (AR) Head Mounted Display (HMD) for dismounted operations. This capability will eliminate the need for the soldier to look "down" or "elsewhere" to get situational awareness (SA) data; rather, the SA data and video will be brought into his Field of View.

Due to the variety of operational environments, engagement range can rapidly change. The soldier must be able to rapidly acquire and engage targets in order to have maximum mobility, lethality, and increased survivability. Advanced weapon sights and networked data have increased the effectiveness and capabilities of soldiers. AR and HMD technologies have the potential to greatly increase the soldier's situational awareness, target location and acquisition, and engagement. BANC3's technology includes integrating full color, high definition displays with brightness that is suitable for daytime use. Additionally, a secondary interface will allow for AR content to be displayed from a Nett Warrior Android device. This can include a wide variety of content from simple symbols, to maps with personnel locations, navigation data, remote video, and static images. Additionally, the system would connect wirelessly to available nearby weapon sights and other imaging and ranging devices to provide the soldier with remote viewing and information.
Features include: Color, high brightness, optical-see-through Helmet Mounted Display (HMD), integrated geo-located positional and orientation tracking, Ultra Wideband video ingestion from battlefield sensors, Nett Warrior integration, Intuitive, informative, soldier and mission driven User Experience/User Interface.
Pre-Shot Threat Detection (PTD) System:
The PTD is a a rifle-mounted laser used in combination with the legacy Advance Combat Optical Gunsight (ACOG). The PTD laser system provides positive visible warning signatures from threat optics (e.g. to include but not limited to rocket propelled grenade (RPG) sights, binoculars, and rifle scopes). BANC3 has creating innovative and lightweight solutions for the PTD weapon mounted operational systems.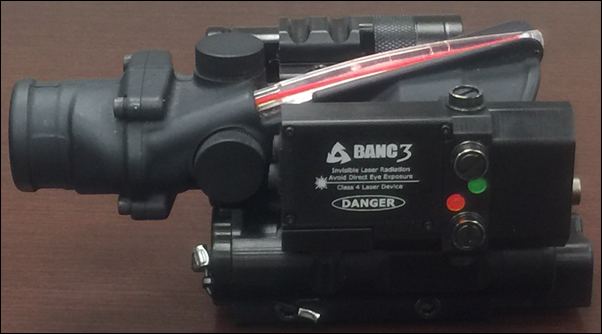 Software Systems:
BANC3's senior staff has various defense systems experience including Joint Stars/CGS, GCCS, DRRS, CPOF, Financial Disclosure Management (FDM), DCGS PEO IEWS, CNPS/R-FIS, PM DCATS, BETSS-C PM NVESD/ATC, PEO C3T, JNMS and PM WIN-T.
BANC3 has a seasoned staff of professionals with a wide range of expertise in a variety of areas, including System of Systems (SoS) Architecture, System Design & Development, Systems Analysis & Integration, Software/System Test & Evaluation, Modeling & Simulation, and User Interface Design.